Cristina Albertoni, Cadenazzo, TI - The teacher of joy from Cadenazzo
Jean-Pierre Ritler | 07.09.2015 |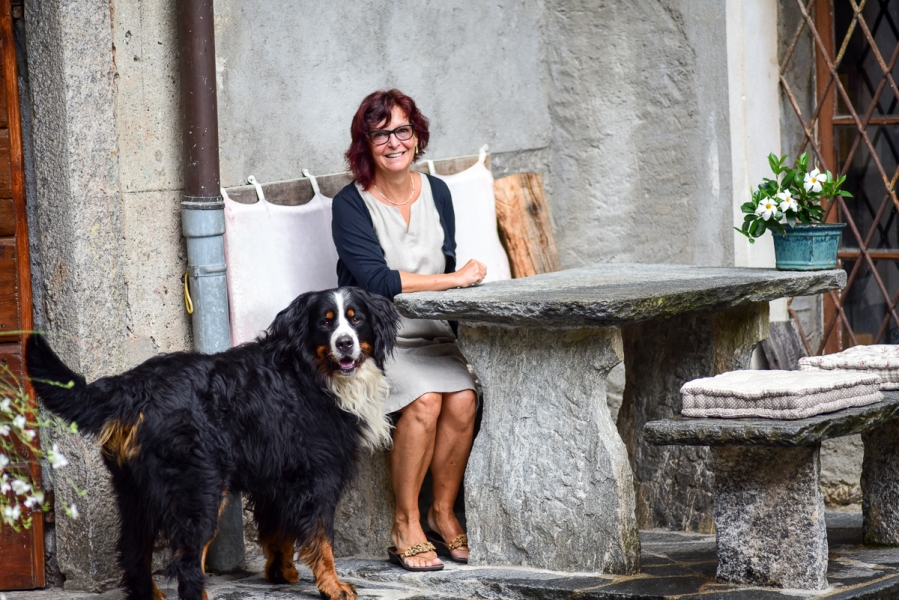 ---
The teacher of joy from Cadenazzo
"Benvenuti" is the hand-written message on the board positioned at the entrance to this grand building, which is full of secrets and nestled next to the small church of Cadenazzo. And you really are "welcome" here; Cristina and Fabrizio Albertoni are born hosts. The wonderful large venue dates back to 1450 and Swiss Tavolata guests can choose where they enjoy the culinary delights served up by Cristina: for example in the elegant and tastefully decorated "salone" or in the cosy and rustic "grotto", which is how the Albertonis refer to the farm's old kitchen. The "salone" and "grotto" each have space for 10 to 12 people. Those who come as a group of four can take a seat at the old granite table in the farm's wonderful inner courtyard.
Cristina Albertoni's enthusiasm and interest for good food were kindled at a young age. "My mother had to cook for four children as well as my grandparents. There was thus always a lot to do and we children invariably lent a hand". Thanks to her training in the field of nutrition, she has also been able to supplement her practical experience with theoretical knowledge. The inquisitive nature of the Albertonis means they are always on the lookout for special products from the local region, allowing Swiss Tavolata guests to enjoy unique specialities.
Whether delicious Formaggini cheese, Prosciutto ham, Mortadella sausage, dried meats or Salemetti – all of the ingredients for the dishes are sourced from the local region. These delights are accompanied by self-pickled vegetables such as red peppers, pumpkin, courgettes and aubergines grown in Cristina's organic garden. As her main course, the affable 61-year-old teacher serves up saffron risotto and saltimbocca on a Marsala sauce. Instead of risotto, those who want to can also order polenta, which Fabrizio then prepares on an open fire.
Before the dessert arrives, a delicious selection of cheeses is delivered to the table. Guests can primarily look forward to Alpine cheese, which the Albertonis collect directly from dairymen working on an Alpine pasture in the Maggia Valley. A piece of the legendary "Piora", the most treasured Alpine cheese in Ticino, also awaits. The culinary journey through Ticino is rounded off by panna cotta served on a fruit sauce.
Cristina is a passionate Swiss Tavolata host. "I now only work part time and also want to have something else to do. Opening a restaurant unfortunately isn't an option. Swiss Tavolata is therefore ideal for me". And guests can be more than just pleased that Cristina has decided that this is the case.
More News Posts
---