MELANIE RAMSER, OBERBALM BE - The police officer and the love story on the farm
Jean-Pierre Ritler | 16.10.2015 |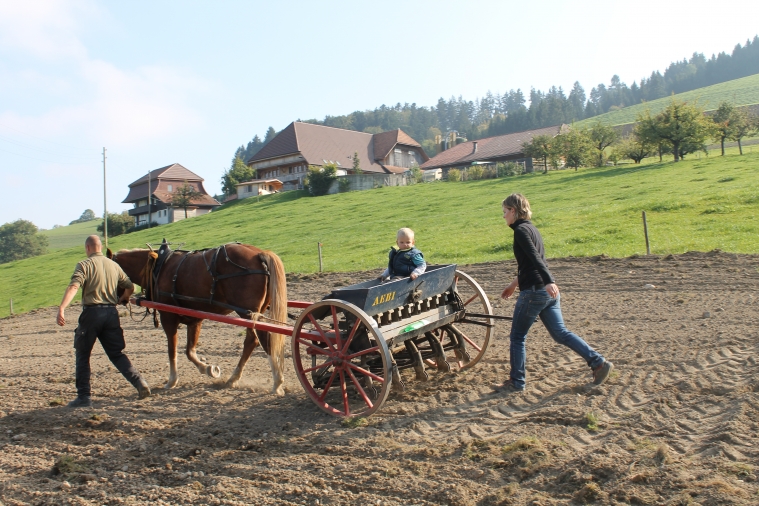 ---
The police officer and the love story on the farm
It's a picture-postcard image: On gently rolling hills not far from Berne, Philipp Ramser from the Hobermatt farm is sowing winter wheat with the help of his Freiberg mare Miranda. There is no roar of a tractor engine here, with the silence only being broken by Philipp's calls to Miranda – an idyllic scene just as we city folk like to imagine it. In reality, however, the life of the small-scale farmer is far less romantic.
The Hobermatt farm was purchased by Philipp's father in 1976. "He cultivated the farmland intensively", remembers Philipp. This was enough to make a living, with five children growing up on the farm. "Everything worked well until the start of the 1990s. However, the policy then switched to direct payments", recalls Philipp. From then on it became difficult, as the payments were based on the area of land and the farm was too small. "This meant that my father also had to work outside the farm". Due to this double workload, he was happy to be able to hand the business over to his son in 2005. "I knew, however, that it was not possible to live from working on the farm alone. I therefore had to find something else and saw an advert for the police", explains Philipp. And then everything happened all at once: Philipp fell in love with Melanie, began police school and took over the farm. And all this at just 22 years of age!
Over the years, Melanie and Philipp's determination to be able to live from the farm has grown – and they want to do so in as sustainable a manner as possible. This has seen the farm move over to organic methods and also involves attempting to work with horses to the greatest extent possible.
Philipp still works 50% as a cantonal police officer. "We have to be honest, this is where our income comes from. In addition, we market eight to ten cattle per year and sell our own flour." And now they have the Swiss Tavolata project, which is another important source of income for the young family – helping them to move closer to fulfilling their dream of living from the farm.
In the next blog: The dream of living from the farm
More News Posts
---