MELANIE RAMSER, OBERBALM BE - The dream of an idyllic life
Jean-Pierre Ritler | 02.11.2015 |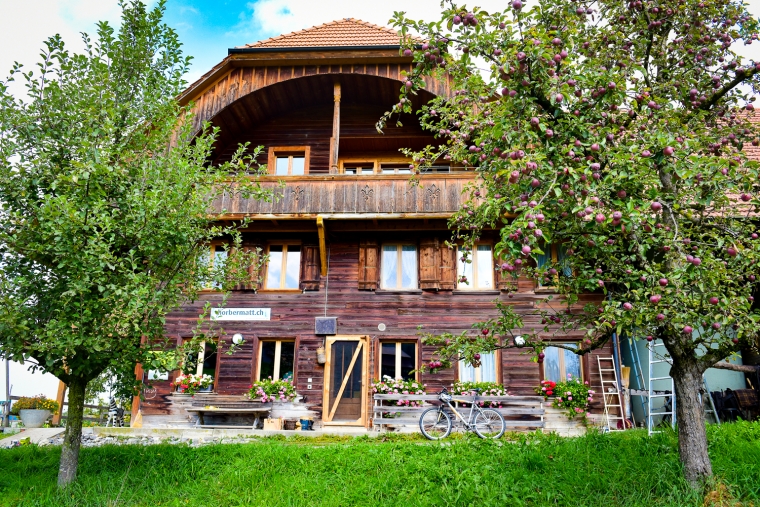 ---
The dream of an idyllic life
"I'd be delighted to tell you about life on the farm", writes Melanie Ramser on the Swiss Tavolata homepage. I take her word for it and visit her family in their romantic farmhouse situated in wonderful surroundings just 15 minutes from Berne. Horses and cattle graze outside, while inside Melanie cooks lunch for the family of five.
The young couple dreams of also being able to live from their own farm. They are convinced that this is possible and are doing all they can to turn this dream into reality. Until then, however, her husband Philipp also has to work 50% as a police officer.
"It goes without saying that we are having to work a great deal for this", explains Melanie. Then she continues: "It is like walking along a narrow ride. Sometimes you fall down to the left, sometimes to the right. This is all part of the challenge. We are working on our plan of being able to live from the farm. We require the right mix and the right offering and this is what we are developing at the moment". In their search for their future business model, the couple complement one another perfectly. Melanie: "I say: Let's not take too long studying something. Let's simply try it out. Philipp, on the other hand, thinks for a long time before he can bring himself to try something new. However, he then also sees it through systematically."
If you would like to support this young family and do not want to see idyllic locations such as the Hobermatt farm become a thing of the past, you can make your own contribution. Book a Swiss Tavolata meal with the Ramsers and enjoy Melanie's delicious cuisine prepared using products from the family farm. Not only will this give you personal pleasure, you will also be helping actively to ensuring a more pleasant and sustainable future for all of us.
More News Posts
---