REGINA MOSER, WORB BE - The search for home
Jean-Pierre Ritler | 08.12.2015 |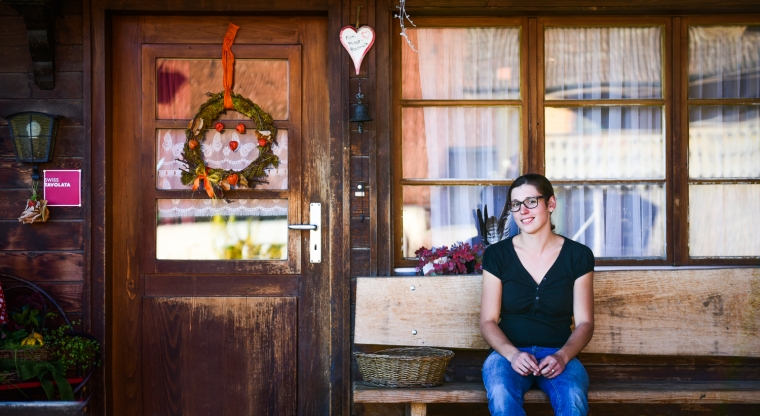 ---
The search for home
"I confess to being a country bumpkin and am happy that I am", laughs Regina. She then takes another sip from her cup of coffee as she squints into the low-set sun. It is the last beautiful day of autumn and we find ourselves sat in front of the Mosers' large farmhouse where we marvel at the breath-taking panorama.
"This is where I am supposed to be", says Regina. Now, at 29 years of age, she finally knows where she belongs. Her years of searching for the right path and trying things out are behind her. Regina, who has an extremely cheerful nature, grew up on a farm in Arth Goldau. "As a child, I of course had to help out on the farm. But this wasn't something that I always enjoyed". After school, she thus decided to start an apprenticeship as a baker/confectioner. "After six months, I realised that it wasn't for me". Regina broke off the apprenticeship and instead went back to complete her Matura school-leaving certificate. Following this, she travelled to Berne where she began to study German language and literature and history. "It was only two months later that I noticed something wasn't right". She didn't feel comfortable. "I was 20 and suddenly it became clear to me that farming is the world in which I belong. I wanted to return to my roots".
And this is exactly what she did. Regina studied in Zollikofen and completed her Bachelors in Agronomy three years later. This was the right place for her – including when it came to finding love. During the course of her studies, she got to know Jürg, a fellow student of the same age who today is her husband. "We quickly realised that we'd like to run a business together".
Without money, however, turning the dream of owning your own farm into reality is impossible. The young couple therefore had no other choice but to work and save. Their son Linus was born in 2013 – and he was also the reason for the next big step.
"After he was born, our desire to have our own farm became an even more urgent matter. We wanted our children to grow up like we did". They therefore stepped up their search for a farm, studied advertisements, wrote applications and even posted an advertisement themselves. This was until their mobile phone rang one lunchtime at 12:30 p.m. Their search was over!
In the next blog: How a young farming family reinvents itself.
More News Posts
---