SWISS TAVOLATA at FOOD ZURICH
| 18.08.2017 |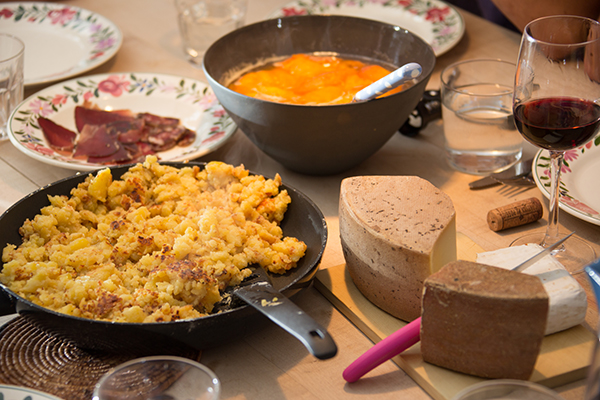 ---
Zürcher City Hotels and female farmers serve delicious food in the city
Female farmers are experts in preparation of meat, vegetables and fruits. That's why, during Food Zurich, the 15 Zürich City Hotels welcome the hosts of SWISS TAVOLATA and offer together a great number of events. Everything is taking place at the first festival weekend: workshops and tavolatas in different hotels in the centre and a charity farmer's brunch in the Brockenhaus Arche in Altstetten. These events will be influenced by the regional background of our host. Two of the five workshops will be held in the mother tongue of our female farmers: one in Italian and one in English.
Six different workshops
On September the 9th from 14.30 till 17.00 will take place six workshops with different topics in six different hotels.
"Vörigs" (leftovers), Bernadette and Christa, Hotel Alexander
"Can apple be a sin?", Vreni and Regula, Hotel Basilea
"Delicacies from Ticino" (hold in Italian), Cristina, Hotel Plattenhof
"Field, Forest and meadow", Erika and Martha, Hotel Rütli
"Reife Ernte einbringen" (making preserves, bake), Domizia, Hotel St. Josef
"Les amis romands à Zurich" (hold in french), Coraline and Véronique, Hotel Coronado
CHF 45.00 per person.
Five SWISS TAVOLATA in the centre of Zurich
The evening begins with a drinks reception all together at 18.00 in the pop-up Urban Food Store in the old town of Zurich. Afterwards the guests head to the 5 hotels where the tavolatas take place. Over there they will be spoiled with the culinary delicacies of our host.
"SWISS TAVOLATA Cheese", Coraline and Véronique, Hotel Adler
"SWISS TAVOLATA Ticino", Cristina, Hotel Plattenhof
"SWISS TAVOLATA Exotic Switzerland", Hotel Seidenhof
"SWISS TAVOLATA Vörigs (leftovers)", Hotel St. Josef
"SWISS TAVOLATA Flora and Fauna", Hotel Zürcherhof
Reservations at www.foodzurich.com
More News Posts
---