10 questions to… Véronique Zen Ruffinen, Susten VS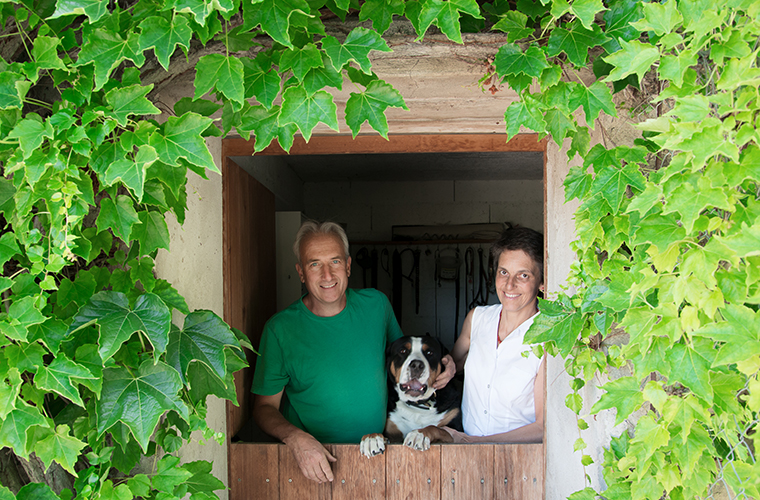 ---
Véronique lives with her husband Yves on the Turriljigut in Susten - in the middle of the Pfyn-Finges Nature Park. Here they run the Cave de La Pinède and grow not only vines but also rye and meadows. Find out more about the passionate chef and read why the mountains are her favourite place, who her heroine is and which speciality of Wallis she loves.
For what does your heart beat?
For my family and the beauty of the nature.
Your husband helps you for the SWISS TAVOLATA project. Where did you meet him?
In his wine cellar. Some friends of mine and my cousins told me to go to his cellar to buy wine and to meet him…
What's your favourite meal and why?
"La Brisolée", because I love chestnuts. "La Brisolée" are hot chestnuts served with cheese and meat specialities of the Canton of Valais. It's typical for our region and for this time of the year.
If you had to give something up, what would that be and why? Chocolate, butter or meat?
Meat, because I love chocolate and butter makes almost every meal more flavourful.
What's your lifelong dream?
That my husband and I will be able to enjoy our life together for many years more.
As a farmer you have a really busy working day. How do you relax?
Knitting, strolling, meditating and reading. Unfortunately all of those not regularly enough.
What's your favourite place?
The mountains - because they give us so much: beautiful landscapes, nature, outdoor activities and wellbeing.
Who's your hero?
My mum, who grew up 6 children with a lot of setbacks during her long live. She teached me a lot, almost everything and does so much for other people. Still today at the age of 91.
What's your last reading before you sleep (book title, newspaper name, etc.)?
«Je rêve de dormir» from Dr. Raphaël Heinzer
What's your motto of life?
Carpe Diem
More News Posts
---