Host's stories - Melanie Ramser from Oberbalm BE
| 26.10.2017 |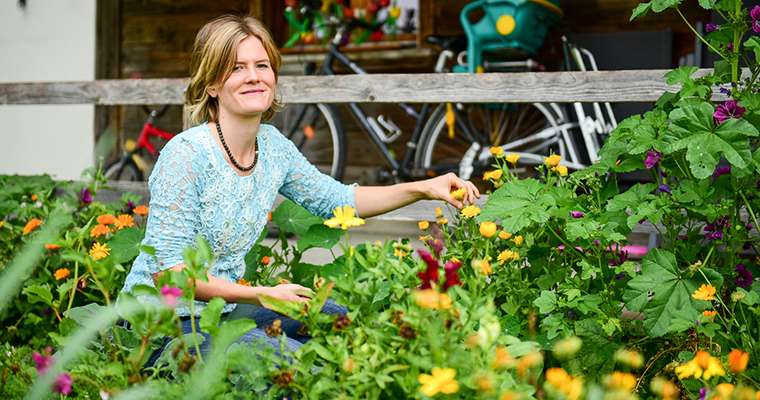 ---
Juggling with planning and flexibility
Often one imagines the life of a female farmer very romantically: the old farmhouse, the country house style, the gentle hilly landscape, the cowbells, life in harmony with nature. However, her everyday life is much more than that - it is often hard work, demanding meticulous planning and flexibility at the same time in order to adapt to the circumstances.
I am a farmer, mother of three children, housewife and SWISS TAVOLATA host. I live with my three children Moana (7), Diego (5,5) and Elio (4) and my husband Philipp on an organic farm and our goal is to be able to live one day off the farm. We place great emphasis on sustainability. We try to work and produce as gently as possible. Our children grow up with nature and are mostly independent. They love to be part of this life and they help us where they can.
Since we do many different jobs indoors and outdoors, I prepare a weekly schedule. So I know in advance which important, urgent work is pending and what else has to be done or can be postponed. And despite planning, it is very important that we always remain flexible. Because our life is also shaped by the circumstances: the weather, the seasons, the moods of the children, the demands of the animals, the people who help us at harvest peaks, our own motivation, etc.
Our day always starts about the same way. After we have all had breakfast together, everyone sets off on their way. Diego will be picked up at 7 AM with the kindergarten bus at the bus stop. Moana rides her bike to school and Elio and I accompany her. After my return home, I have a few hours in the morning and afternoon to do some work. Most of the time I prepare lunch and dinner. I use almost everything from the farm - potatoes, vegetables, cereals, sweet apple cider, meat. Often I cook twice or triple the amount and freeze the food. A ritual with our children is to bake cakes on rainy days and to freeze the slices individually. So we have a fine snack ready to serve quickly. Since this summer we have an apprentice daughter (education year home economics). Ramona lives with us and gets to know our work and supports us in the house and farm.
The youngest, Elio, follows me at every turn, plays alone next to me or is often in the big sandbox. I take care of the farm and garden work, which is very versatile and varied. To list all the works I do would take too long. Depending on the season, there are other works that are in the foreground. Right now we are picking up apples and bringing it to the village's own cider farm. Several times a week I move our three Freiberg horses (depending on the day of the week I give riding lessons, ride out with our children or I enjoy a ride with Philipp or completely alone to relax in the nature). Further work includes bringing grain to the mill and packing flour for sale. I also bake most of our bread and pastries myself. Direct marketing with beef meat is my area of responsibility. I help with the stable work or for the harvesting, where there is need.
As a SWISS TAVOLATA host, I love cooking for guests. Cooking and baking makes me happy and is a "job" that I like to do and is very appreciated by the family. A healthy, regional diet is important to me. It's great to process my own products and serve them to the guests here on the farm in our old granary from 1782.
At the end of the day, we usually take a look back at the day with the children and tell us what we have experienced. When the children are in bed, there is still some time for me and my husband to see friends, do nothing or go to the brass band on Wednesday evenings.
More News Posts
---