HELEN SCHMID, WITTNAU, AG - From grain to bread
Esther Bieler | 02.10.2015 |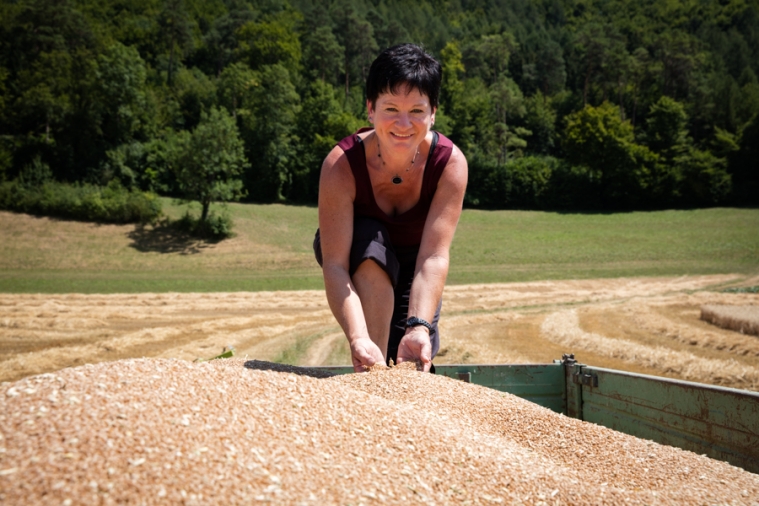 ---
From grain to bread
Baking bread is part of Helen Schmid's daily routine. She bakes it both for her family and her guests. The flour used in the bread is sourced directly from the farm's own wheat fields. As I visit, the harvest is in full swing, allowing me to enjoy a unique experience: Together with Helen Schmid, I climb barefoot into the sun-warmed wheat grain, sinking knee-deep in the process. "I also do this with my guests", explains the farmer with a beaming smile across her face. "It is a wonderful feeling to let the grain trickle through your hands. It gives you a real feel for what bread is made from".
Helen Schmid acquires the flour from the Altbachmühle Tschudi mill ((link to http://www.altbachmuehle.ch)) in the village. The journey from the field to the mill is thus a very short one. In the attached mill shop, it is possible to buy flour and flour mixtures in volumes of between 1 and 100 kilograms. Helen Schmid opts for the "Fitmehl" flour, which comprises half white flour, oat flakes, soya, linseed, buckwheat and sunflower seeds. A real powerful mix for her bread!
Why not try Helen Schmid's bread for yourself and book a Tavolata? She is currently offering an autumn menu containing no shortage of the farm's own pumpkin.
Upcoming Tavolata dates (Link)
More News Posts
---